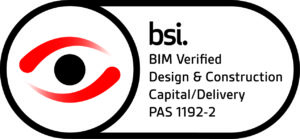 Frank Shaw Associates is delighted to announce that we have obtained BIM Level 2 verification certification for BS1192 2007 and PAS 1192:2 2013 with the BSI.
We will continue to remain at the forefront of BIM adoption as evidenced by us joining a select group of architectural and construction industry organisations in achieving this accreditation, and by demonstrating our capability within the BSI's rigorous assessment.
We can now give our clients greater assurance than ever that our BIM credentials are fully aligned with the industry.
As a result of our certification there are many added benefits we can offer:-
Fast and efficient processes
Increased productivity and speed of delivery
Controlled whole-life costs and environmental data
Improved integration with Health and Safety
Opportunity to secure Government contracts to meet BIM Level 2
Reduced on-site waste
Improved Design coordination
Frank Shaw Associates has been using CAD and BIM in various forms for over 30 years producing a large database of knowledge. This is constantly being developed to give our staff the latest and most appropriate tools to deliver the best possible solutions.
The BIM adoption and advancement is overseen by our BIM Manager in tandem with our Director of BIM, both of whom coordinate and embed BIM processes within our in-house project teams. This ensures compliance with the BIM standards and best practice throughout our supply chain.